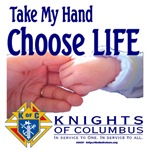 PRO-LIFE
Jim Cross, PGK & DD,
410-893-1266,
The Defend Life organization of Maryland conducted several rallies at different locations throughout the state from July 25th through the 29th. These rallies are intended to give visibility to the prolife efforts by visibly and very graphically showing the general public that happens to be in the area what abortion truly is.  Thus it is called the "Face the Truth Tour". The goal is to convince everyone that abortion should not only be illegal, but also to make it unthinkable. Many pro-life supporters are concerned that these tactics are too gross and many of the visuals used are too extreme, especially for the younger children that happen to be there as well. It is unfortunate that when you are in a war like this it becomes necessary to fight ugly with ugly. But the shock factor has been successful on numerous occasions. "We live in a highly visual, semi-literate society" as expressed in the June Defend Life letter sent to us. These facts are not shown in the mainstream or other media. So these passionate defenders of life feel that the only way to bring attention to this cause and get change, is to take it to the streets.

There was also an article in the July 19th issue of The Catholic Review advising of the favorable rulings for pro life supporters by two judges this month. One of these was related to these Face the Truth activities in Harford County. Hopefully you saw this encouraging article. If not, you can find it on the Catholic Review web site: www.catholicreview.org.

Another more peaceful way to support the pro-life efforts is by praying. The Archdiocese of Baltimore is sponsoring a Summer of Mercy 2.0 project and encouraging all of us to pray the Divine Mercy Chaplet for 9 days from July 3oth through August 7th. For more details please check their web site at http://www.summerofmercy.com/ .