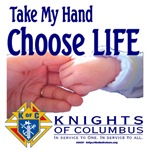 PRO-LIFE
Jim Cross, PGK & DD,
410-893-1266,
Many thanks to all those that picked up the marigolds, transferred them to the cups with labels and passed them out at the Mother's Day Masses. The combined effort changed them into "Marygolds" in honor of Mary and every mother's decision to bring life into the world and sustain it. Pray the rosary during the month of June for mothers in need of help. Donate diapers or other supplies whenever you can because baby care is every day.

Have you been to the Supreme Council website lately? Did you know that within the Pro-Life area of the website, there is a listing of approximately 9 organizations that Supreme supports and recommends to all Catholics who are sincere in their support of Life? These organizations are: United States Conference of Catholic Bishops Secretariat for Pro-Life; Birthright; March for Life; Susan B. Anthony List; 40 Days for Life; Life Athletes; National Right to Life; Priests for Life; and the Vatican Web Site. This list with a brief explanation of each organization can be found -HERE- and each organization is linked through the name to the appropriate website. Please take the time to read about each group, to read new thinking and to reinforce your opinions. There is always something new to be learned on these websites.