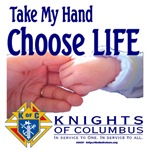 Jim Cross
March for Life in Annapolis is on Monday, March 14, 2011.
Hopefully everyone has signed up for the Maryland Catholic Conference or The Catholic
Advocacy Network sites and is getting emails about the bills in Annapolis during the General
Assembly Session. There are constant legislative assaults on our Catholic Principles that need to
be responded to quickly and constantly. Please get involved and stay involved. Pray often.
Each year concerned pro-life citizens in Maryland assemble in Annapolis to march on the capital
in support of pro-life legislation. With the support of hundreds of supporters, pro-life legislators,
lobbyists and the Knights of Columbus we have been able to hold off legislation that would restrict
the pro-life movement, greatly hamper assistance centers, and make abortions even more
prevalent in Maryland.
This year the march will be held on Monday, March 14th, beginning at 5:15 with a mass at St.
Mary's Church in Annapolis. The evening's itinerary is:
5:15pm – Mass with Archbishop Edwin F. O'Brien presiding
7:00pm – March to Susan Campbell Park by City Dock at St. Mary's Church
7:30pm – Speakers featuring David Bereit (40 Days for Life),
Matt Birk
Baltimore Ravens), and
your Maryland legislator
8:45pm – End of march food at St. Mary's school cafeteria (Chick-fil-a), and exhibit hall open (approximately 20 exhibitors)
Last year we had over 800 participants at the Maryland March for Life, making it the single largest gathering of its type in Annapolis once again (although the press never covers the event).
How can you support the Maryland March for Life?
1. Attend the Maryland March for Life and to show your support for life issues in Maryland. Last year we had 800 people at the march!
2. Volunteer as a marshal during the march, directing the marchers, helping those who fall behind, directing traffic, etc. Contact Quentin Sedney, at 410-526-4366 or
Quentin_Online@Verizon.Net.
3. Support the march financially through direct contributions to Maryland March for Life. Any amount would be greatly appreciated.
Please make your checks to: