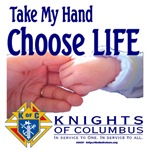 Jim Cross, PGK & DD;
410-893-1266
Archbishop O'Brien wrote an article in The Catholic Review on September 17, 2009 titled "No Time for Complacency". This is just as true today as then. Don't let some gains in the November Election lull you to sleep. Maryland is destined to become the Abortion capital of the United States. Maryland was number four then with an increasing rate while the three ahead of us were declining. Now Dr Carhart is heading here because Nebraska passed more restrictive abortion laws. Carhart vs. Nebraska was the Supreme Court case that expanded Roe vs. Wade years ago.
Attend the March for Life in Washington DC on January 24, 2010 or a prayer service at your parish. The EWTN channel on cable will probably broadcast the event. Don't assume that it was not held because it was not mentioned on the network news. More info is available in the Supreme Council article.
We will once again hold our January Pro-Life Spaghetti Dinner on Saturday January 22, 2011 after 5:00 PM Mass in the Church Hall. However, if the SJE Parish volunteer appreciation dinner on the 21st should get cancelled due to snow, we will have to reschedule this dinner. Proceeds from the free-will donations will benefit a prolife / defend life charity.