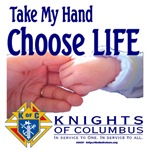 PRO-LIFE
Jim Cross, PGK & DD,
Maryland Catholic Conference                
We conducted a very successful registration campaign lastmonth for the MCC Catholic Advocacy Network.  84 people filled out forms after the masses andthey were provided to Msgr. Rick to send in to the MCC office.  This was in addition to the 75 thatwe gathered earlier this year in February.  As a result, our efforts were highlighted this month in theBeacon, the State Council News Letter, by the MCC.  We are very proud and grateful to receive thisrecognition.

After a successful legislative session earlier this year - thanks to the prayers and active participation of parishioners throughout the state, MCC is planning and preparing for the 2012session. Maryland Catholic Conference invites you to sign-up to attend our second annual "presession" Advocacy Day as we continue to Stand Strong in the Public Square .

Our jobs as faithful citizens keep us engaged in the public square all year round. The key issues ofconcern to the Catholic Church and Maryland's Catholics remain the same no matter who is in officeor which party is in power. Your involvement is needed more than ever to encourage your electedofficials to support public policies that promote the common good.

What can you do? As Catholics, we are ACTivated by Faith. How is our faith calling us to action andhow can you get involved and get your parish involved in public policy and legislation?

Join Catholics from around the state at Advocacy Day 2011:
Stand Strong in the Public Square whowant to know: 
1. Who are our legislators? 
2. What are the important issues for 2012?
3. How can we and our parishes get involved?

Sign up for Advocacy Day on Saturday, November 5 and learn what you can do to remain active andto advocate during Maryland's upcoming 2012 legislative session (January - April). 

Saturday, November 5, 2011, 8:30 am - 1:00 pmMiller Senate Office Building, 11 Bladen Street, Annapolis, Maryland Box lunch included 

Are You Pro-Life and Want to Know How to Help the Cause?

Do you want to take your stand to change the world?

Are you ready to learn more about gettinginvolved in the pro-life movement? Are you already involved and want to learn more and become moreeffective?

Then this year's Maryland Right to Life Biannual Convention on December 3 is for you!

Whether you have been pro-life since conception or just became pro-life today, the Convention hassomething for you!   Visit to download the details, speakers, schedule, etc.

You can register today by using a credit card on this website and noting "Convention 2011" in the notes box,with the names of those attending!
You may also mail your registration with $25 registration fee perperson, and a special $10 registration fee for students and religious to us a
420 Chinquapin Round Rd
Suite 2-I,
Annapolis, MD 21401.

You may also register by calling us at 410-269-6397 or 301-858-8304. The registration fee covers breakfast and lunch.