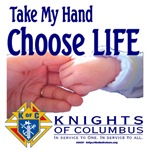 PRO-LIFE
Jim Cross, PGK & DD,
410-893-1266,
-EMAIL-

At our business meeting in September, our Chaplain and SJE Pastor, Msgr. Rick Cramblitt once again request the very proactive and robust efforts of our council in support of the Maryland Catholic Conference. There are several activities on the horizon where we can and will get involved. We will once again take the lead in soliciting the support of SJE parish and encouraging them to sign up for the email alert program as well as to follow the web site to keep abreast of activities affecting our faith and beliefs. We will need the support of all Brothers and their families to hand out forms and collect them at all masses on the weekend of October 8th & 9th. Additional announcements will be sent out via our email, web site, church bulletins and parish email and web site. Please make yourself available and support this project at a least at the mass you attend. There is also a program coming up on November 5th, from 8:30 to 1:00 pm in Annapolis. It is ADVOCACY DAY 2011. The purpose is to organize and prepare for the 2012 legislative session, and especially for the MCC Lobby Night in Annapolis that takes place on February 20th. Msgr. Rick participated in this effort last year, and this is the most proactive way to show our strong support and/or disagreement with some of the legislation and pending considerations. Please mark your calendars and do your best to get involved and participate on these dates. You are also encouraged to sign up ASAP for the MCC email communications via the link http://www.mdcathcon.org.

There is also a new MD State Council initiative for Pro-Life activities called  Linkages". The purpose is to promote local council support and foster effective relationships between local Pregnancy Support Centers and K of C Councils in their area. Each council is requested to establish a proactive "link" with any of the 40 approved PSC's in Maryland. And we have one right in our back yard in Bel
Air……..Birthright. Our Knights Ladies of Long Green have had projects supporting them in the past.

It's time for us to get on board and take this to the highest level. We need your leadership and support. So please volunteer to get involved in this very worthwhile initiative.